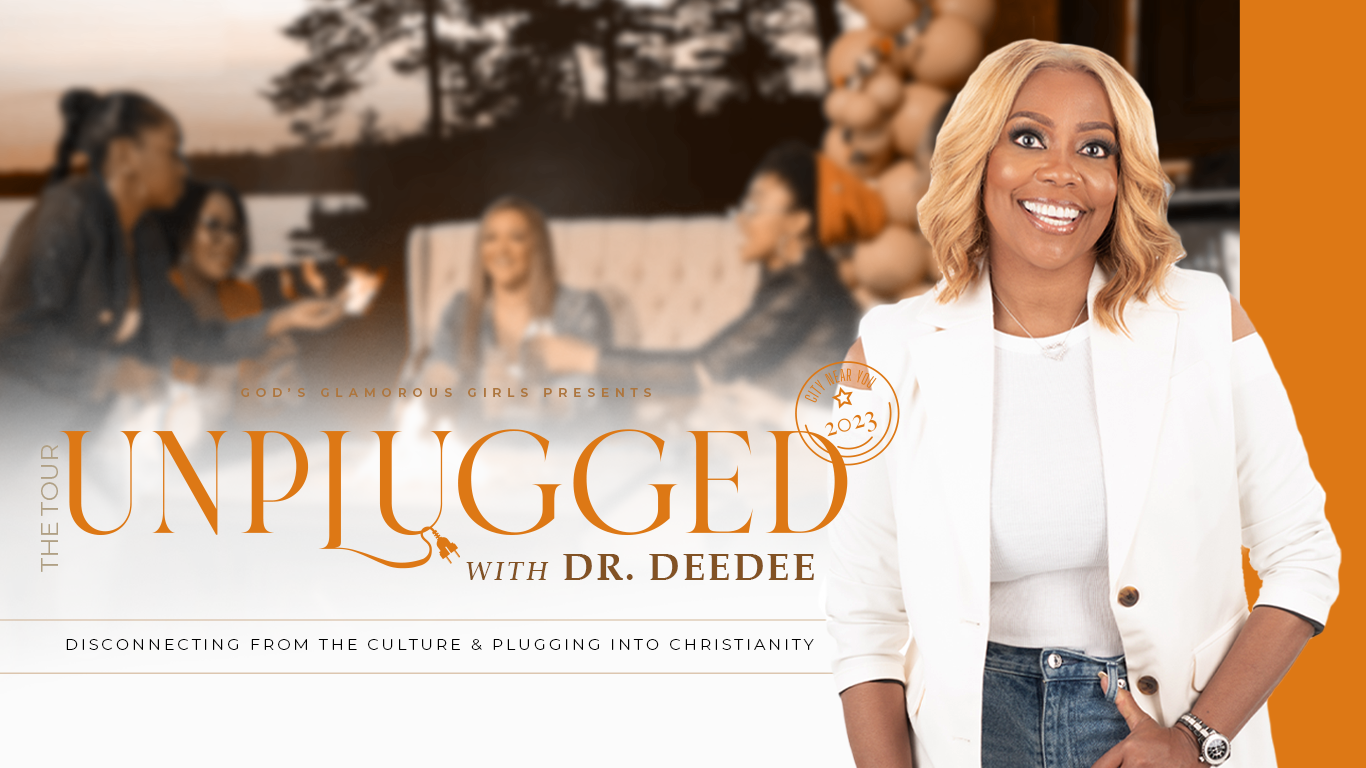 Hey, Beautiful
<GOD'S GLAMOROUS GIRLS
Are you ready to unplug?
It's time to take a break from the pressures, anxiety, hopelessness and fears of life and be revived by the word of God.
Join Dr. Dee Dee Freeman and the GGG Gang for a one night experience as we "Disconnect from the culture, and plug into Christianity." It's time to be free as we worship and fellowship together in truth, sisterhood, and love.
Get ready for the UNPLUGGED Tour!
It's time to unplug!
DISCONNECTING FROM THE CULTURE AND PLUGGING INTO CHRISTIANITY
January 12, 2024
Faith City Central (Brandywine, MD)
Pastor Mike & Dr. DeeDee Freeman
More tour stops coming soon!
Our Founder
Dr. DeeDee Freeman
Welcoming 5k+ attendees, God's Glamorous Girls (GGG) is a heart-stirring women's experience by DeeDee Freeman. Her ingenuity and passion for offering unforgettable, life-changing experiences birthed the God's Glamorous Girls conference series, which impacts the lives of women across the globe through powerful speakers and phenomenal entertainment.
An example to many, her lifestyle, and teachings both inspire and challenge women to develop strong relationships with God and their families. During the conference, participants attend powerful sessions that address every area of their lives -faith, family, and friendships. Previous GGG featured speakers included Dr. Michael Freeman, Bishop T.D.Jakes, Pastor Kim "RealTalkKim" Jones, Dr. Medina Pullings, Dr. R.A.Vernon, Christine Caine, and Dr. Taffi Dollar; as well as collaboration with Dr. Holly Carter-founder of the Merge Summit.
Dr. DeeDee's goal for the GGG Unplugged Tour is to meet women right where they are and help them close the gap between where they are and where God needs them to be. Through connection and accountability, the women connected to Dr. DeeDee can grow and mature in the things of God by DISCONNECTING from the culture and PLUGGING into Christianity.